Annemarie
Click image to enlarge.

We first met in Paris, when Tom and I went to Europe
for Maike's wedding in the Fall of 1994.
Annemarie and Dierk joined us for a few days
on a delightful trip to Normandy, France.
Straight off our cross-Atlantic flight toParis, they collected us
and we headed directly out the Seine for an afternoon at
Monet's house and gardens in
Giverny.

Click image to enlarge.


More about Monet and Giverny
Click here
Musée d'Art Américain in Giverny
(founded 1992)
click here


From Giverny we headed toward our objective,
Honfleur, on the Normandy coast.
En route we studied where to spend the night
with the aid of a French book I had, about country inns of Normandy.
Annemarie made the final selection...
and it could not have been a better one!

Auberge du Vieux Puits
at Pont Audemer

Created from 17th century leather tanneries...
today the city still has its tannery:
a principal supplier of the houses of Hermès and Louis Vuitton.

Click images to enlarge.

"Gustave Flaubert, an early admirer of this hotel
in a trellised and beamed 17th-century cottage,
gave it a few lines in his celebrated novel Madame Bovary.
The quiet rooms, with heavy wooden pieces
and pretty curtains, overlook the courtyard. "(Fodors)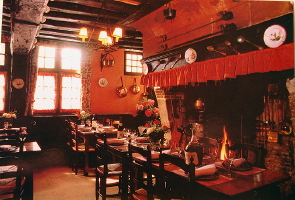 Click image to enlarge.

"The restaurant serves first-rate, rich, innovative Norman cuisine.
trout in champagne sauce, duckling stew with sour cherries,
local cheeses, and fresh fruit tarts." (Fodors)

"This hugely enjoyable, half-timbered Norman inn
dates from the 17th century. Formerly a tannery...
with a forest of beams, roaring fires in giant fireplaces and aged dressers,
the dining-rooms couldn't be more cosy or rustic.

The robust country cooking -
dishes include home-smoked rainbow trout, rabbit with chanterelles
and a memorable baked apple in puff pastry -
is excellent, and Jacques brings meals to life by
providing copious detail on the provenance of the local produce."
(Twenty reasons to cross the Channel , travel.telegraph)

Click image to enlarge.


Click image to enlarge.

6 rue Notre-Dame-du-Pre, 27500 Pont-Audemer, Normandy, FRANCE
A short article about l'Auberge du Vieux Puits
Click here
Pont Audemer- Short Video:
Click here

From what I can tell, the auberge is no longer open.
It appears that the owners went on to bigger things.
The new place is fantastic!
Château de Brécourt
Take a Virtual Visit of their Chateau
Click here


Honfleur... to be continued


Return to Index
Click here