From the sublime to the ridiculous!
University of Bonn:
RHEINSCHE FRIEDRICH-WILHELMS-UNIVERSITÄT,
(called "The Uni" by most)
The university is housed in baroque palaces of the 18th century.
While I lived in Bonn, I studied German Literature here.


Click images to enlarge.
Click images to enlarge.
Click images to enlarge.
The window in the attic, just below the cupola, left above, was my class room!
Distinguished scholars
who have taught and conducted research at Bonn University

August Wilhelm von Schlegel (1767 - 1845), literature and arts scholar
Ernst Moritz Arndt (1769 - 1860), poet and historian
August Kekulé von Stradonitz (1829 - 1896), chemist
Heinrich Hertz (1857 - 1894), physicist
Josef Schumpeter (1883 - 1950), political economist
Karl Barth (1886 - 1968), theologian
Ernst Robert Curtius (1886 - 1956), philologist
Wolfgang Paul (1913 - 1993), physicist and Nobel prizewinner
Reinhard Selten (bn. 1930), economist and Nobel prizewinner


Famous alumni

Heinrich Heine, law student from 1819
Karl Marx, law student from 1835
Prinz Albert von Sachsen-Coburg-Gotha, philosophy from 1837
Friedrich Nietzsche, student of philosophy and theology from 1864
Konrad Adenauer, law student from 1895
Robert Schumann, law student from 1904

********
My fortuitous extra-curricular activities...
While I was at the Uni ,
I made a new acquaintance, named Ulrich,
who would change my life forever...
How I met Dierk and Helga
and my other German friends, Inga and Ulrich

Between classes at the "Uni" one day, I went for a hot chocolate from a vending machine.
Finding that I did not have the correct change, I asked the person behind me if he did.
He graciously gave me the needed coin and
thus began the following conversation (short version):

Ulrich: "You are not from Germany. Where are you from and why are you here?"
I explained that my husband worked at the US Embassy
and I was completing my language requirements for my college degree,
studying the Sturm und Drang period (of German literature - Goethe, Schiller, etc.).

Ulrich: "Have you ever been to the Schiller Theatre in East Berlin?"
When I replied that I had not yet been to Berlin, he countered,

"Ah! You must let me take you to the Schiller Theatre
and show you Berlin!"
I replied, "I'm sorry, but I am married!"

to which Ulrich replied, "Wunderbar!!!
You bring your husband, and I will bring my wife!
We very much enjoy knowing people from other countries."

I subsequently learned that Ulrich had recently graduated from law school and was
working across the street from the University; and his wife Inga was a Judge.

We arranged to get acquainted as couples by meeting
at the Beethoven statue in the Market Place in Bonn, one evening.
From there they led us to an elegant Weinstube nearby.

| | |
| --- | --- |
| | |
Click images to enlarge.

The evening was delightful! It was soon followed by an invitation to go visit a
pottery factory in the nearby
countryside, together, one Saturday afternoon.
After the outing, we invited them to come back to our apartment for supper.


Click image to enlarge.

Soon after that, Ulrich and Inga invited us to their home, to meet
their friends... another couple of lawyers, by the names of
Dierk and Helga.

The four of us showed up for a traditional Sunday afternoon "Kaffee und Kuchen"
(Coffee and dessert), normally a two-hour affair at 2 o'clock.

Quite contrary to proper German etiquette,
at 6:30 that evening, we were all still there!
We were enjoying discussing politics and world events of that
strange year of 1968...
the VietNam War, the Black Panthers,
"Red Rudi" and the Student Movements in Europe and the US, etc.;
and I got my first taste of the feminist movement, thanks to Inga.


Click image to enlarge.

Inga generously prepared Zwiebelkuchen for us,
a sort of Onion pizza without the tomatoes.
At about 9 o'clock, Helga, said they had to depart, because baby Maike was out of diapers.
Everyone groaned with disappointment. So, I said, to Helga,

"Come to my apartment nearby, and I will give you paper diapers for Maike."
Helga had never heard of paper diapers, but, off we went about ten minutes to my place!
I introduced her to Jon and Page Kelly, who were home with our Turkish babysitter.
Then we returned to Inga and Ulrich's
and everyone stayed till midnight!
I suspect this could have only happened because it was the crazy '60s!

Over the ensuing years, while I was living in Bonn, these four wonderful people became
our closest German friends. We had many great times together,
from sharing in their Carnival parties (photos below), a famous tradition of the region,
similar to Mardi Gras in New Orleans, and our respective New Year's Eves parties
to a variety of separate outings of two couples here and there.
We did indeed go to Berlin with Inga and Ulrich!

Note: I will eventually find and scan a recent photo of Inga and Ulrich to add here.
For now, to see recent photos of Dierk and Helga,
go back to the Index after you complete this section.

No one was more excited than I was, two decades later,
when the Berlin Wall finally came down!


Click image to enlarge.

Karneval Season
The nearby city of Koeln (Cologne) is the center of the action
and has the biggest parade.
But, Karneval takes place all over the Rheinland.
In other regions of Germany the same activities are called Fasching,
in others, Fassnacht (or Fasenacht).
The tradition goes back to pagan times.
It was a way of driving out the evil spirits of winter and
encouraging the coming of spring and good crops.
Ugly masks worn for this purpose are still worn in carnival festivals in Germany.

KÖLNER KARNEVAL
The first written record of the Köln carnival is from the year 1341.
Referred to as Cologne's "Fifth Season,"
Carnival is world-famous as a colourful, joyous celebration,
and annually attracts around one million visitors into the city.

Traditionally, the fifth season is declared open at
11 minutes past the eleventh hour on the eleventh day of the eleventh month,
i.e. 11 o'clock , 11 November.
The Carnival spirit is then temporarily suspended by the Advent and Christmas period,
and picks up again "in earnest" in the New Year.
Street carnival, also called "the crazy days," takes places between Thursday
(Women's Carnival Day) before Rose Monday and Ash Wednesday.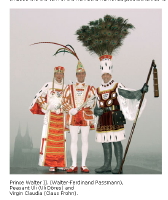 Click image to enlarge.
The Trifolium
The main representatives of the Cologne Carnival are called the "Trifolium"
(i.e. trefoil, or cloverleaf), in German "Dreigestirn."
They are the Prince (Prince Carnival), the Peasant and the Virgin;
with the latter two representing the wealth and defence readiness
as well as the virtue and beauty of the free Imperial City of Cologne.
As a matter of tradition the Virgin is always represented by a man.
Every carnival session the Trifolium is provided by one of the
member clubs of the Festive Committee.

The Three Mad Days
are the end and climax of Cologne Carnival.
The time of merrymaking in the streets is officially declared open at Alter Markt
on the Thursday before the beginning of Lent.
Pubs stay open till the early hours of the morning,
and the spirit of Carnival reigns in the streets and public squares,
in offices and at home, and above all in places for dancing and drinking.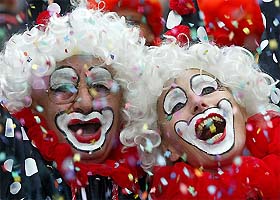 Carnival Sunday and Rose Monday
The following Sunday belongs to processions through the streets,
organised by local schools and the different districts of the city and
watched by hundreds of thousands of people.
The real highlight is the next day, "Rosenmontag" (Rose Monday),
the day of the big Carnival Procession
with the three chief Carnival figures, Prince, Peasant and Maiden.

Each year's procession tries to outdo that of the year before in
colourfulness, witty ideas and gay costumes.
Scores of decorated floats with huge figures parodying topical events,
about 130 bands, hundreds of horses, brightly clad groups – all passing through
streets packed tightly with millions of people cheering
and calling out for sweets and little bunches of flowers,
which are thrown in tons and ten thousands to the merrymakers.

| | |
| --- | --- |
| | |
There is also a political element to Karneval.
It is the time to rebel against all in authority and to ridicule politicians in particular.
Above are mockeries of Schroeder and Bush.

On both Carnival Sunday and Rose Monday, motor traffic is banned throughout
large sections of the city centre. No vehicles may be parked along the procession route.
Those without a grandstand seat or access to a convenient window
are advised to secure themselves a roadside position in good time.
The Tourist Office issues a map of the route well in advance,
and also flyers on the "Crazy Days."

More information about
Karneval
Click here


Karneval, February 1968
"The Way We Were"

Click image to enlarge.
Dierk and Helga's Party
a Gang of lawyers in prison dress!
Dierk is center right, with the lady's hand in his hair.
Click images to enlarge.
An American Karneval party on the left;
Inga and Ulrich's Karneval party on the right.
Me as Daisy May and Judge Inga as Flower Child far right!
I was dubbed the "First Woman Astronaut" in the blue costume.
I'll eventually find a photo of Ulrich in prison garb and add it.
Meanwhile, here we are in Bonn in 1987.
Tom and I were there for Maike and Stefan's wedding.

Click images to enlarge.
The photo of Inga is from 2003.

I had returned to Bonn in 1971,
as a last taste of freedom before starting graduate school and going to work.


Click images to enlarge.
We spent a wonderful day and evening at the Booss family cottage
in the Eifel Mountains west of Bonn,
where it is traditional to play a mean game of Barricade each time!

Dierk and Helga then visited us in Georgia a year later.

Click image to enlarge.
Continue to my old neighborhood,
Bad Godesberg...
Click here